We call them our experienced specialists with often high professional and industry knowledge. They build on their experience and trust the known and predefined processes and ways.
Challenges in the form of changes in regulatory requirements, necessary and comprehensive digitization, innovative or disruptive technologies, resource shortages in materials and personnel can push even experienced teams to their limits.
The consequence of this is often that the original business plans cannot be realized, critical milestones are not reached or difficulties arise that cannot be solved with the existing expertise.
In our experience, these deficiencies are not only evident in corporate planning:
Product development does not get beyond critical stages and there is a risk that the outstanding product idea will not lead to an approved product?
All the documentation is not where it should be?
Due to the supply difficulties on the world market and the unclear situation regarding purchase prices, the material supply, especially in the field of electronics, is not secured? The selection of the currently necessary suppliers is no longer in line with your own needs, is not really future-proofed? The supply chains, national and international, are suddenly questioned?
The distribution of products and solutions is not running as it should? The selection of national or international distribution partners is questioned? The pricing for the different distribution forms and markets needs to be adjusted?
Quality Management Systems (QMS) and Product Services:
The best Quality Management System (QMS) is of no use if it does not support the daily business and thus receives acceptance. The ability to adapt to continuously more demanding regulatory or customer requirements determines whether a QMS is sustainably and beneficially established in the company.
Assured and lean compliance saves time, costs and thus resources!
We support in the conception, development, maintenance and also remediation of QMS.
Our specialists support manufacturers of medical devices navigate through the multitude of regulations when placing products on the markets worldwide to comply with national and international regulations and standards.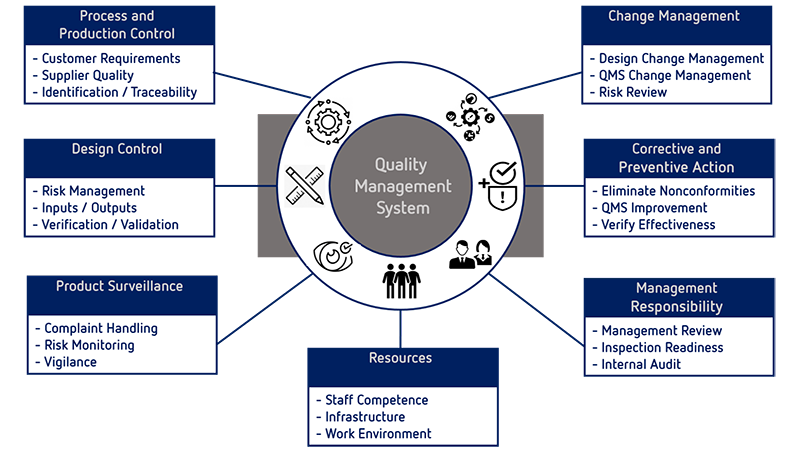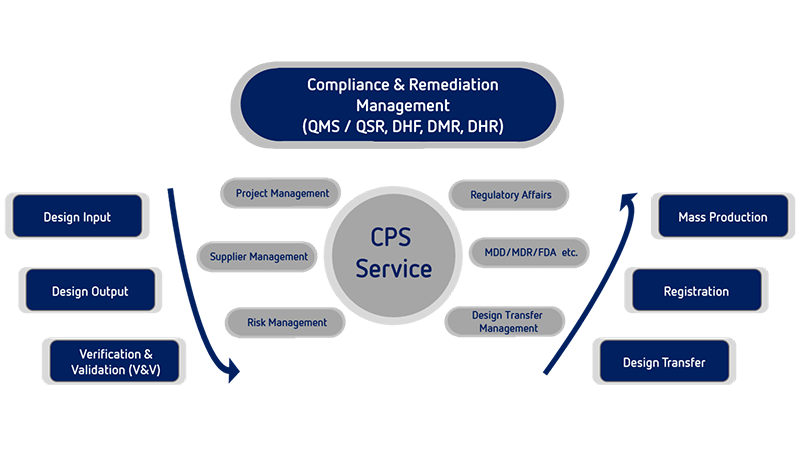 Services for the medical device and pharmaceutical device industry:
Quality management systems (setup and remediation)
ISO13485 (MDSAP)
21CFR820 (FDA)
Interim Quality Management
Regulatory intelligence/strategy (approvals)
Design Dossier
Design History File (DHF), Device Master Record (DMR)
Interim Manager Regulatory Affairs
Evidence of the safety and performance of medical devices
Medical Device Regulation (MDR) / Regulation (EU) 2017/745
In Vitro Diagnostic Medical Device Regulation (IVDR) / Regulation (EU) 2017/746
IEC 60601 series of standards


Services for the medical device and pharmaceutical device industry:
Design Transfer
Customer and Supplier Management / Supply Chain Optimization
Project Management
Preparation and Revision of Documentation
Change Management / CAPA Management
Internal Supplier and MDSAP Audits
Qualification and Validation (including Computer System Validation (CSV))
Risk Management and Usability (ISO 14971 / IEC 62366)
Business Analysis / Process Optimization / Production Relocation / Automation
The proof of our core competences are numerous successfully executed projects (set-up, remediation, operations)