With your investment in a company and especially in a young, newly founded company, start-up or spin-off, you often have a special goal. It is the unique product, the excellent solution or unique technology that drives you.
The founding team that ultimately convinced you investing is excellent and you have found experienced leaders for the controlling body.
An investment in a company, however, should ultimately not only be financing and thus help to realize ideas, but also open up new opportunities for the investor.
If things do not go as expected or existing difficulties and problems have not been openly revealed and the obstacles to be overcome only become apparent  at a late stage, it is time to act.
We at CPS are all entrepreneurs with our own risk and financial commitment. This not only gives us a different view regarding resources used and their sustainable return, but also our own sense recognizing developments that are not going in the right direction.
From this point of view, we make individual analyses of all existing and possible issues and show you the right and necessary steps for the way back to success.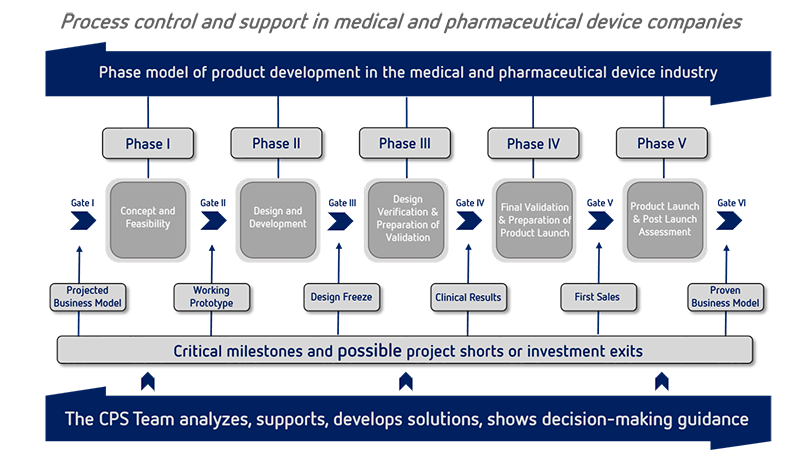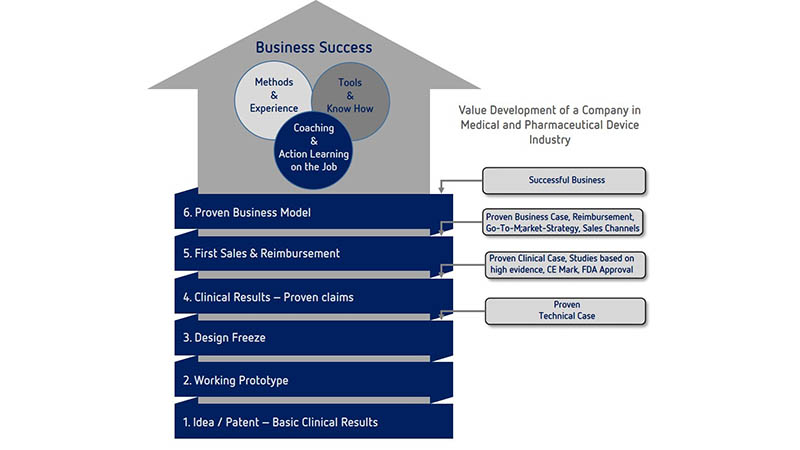 Value development of a company in medical and pharmaceutical device industry.
The success of a company, especially in the start-up or spin-off phase, in the medical and pharmaceutical device industry, is already determined in the first phase of development by the correct design of the processes and the identification of suitable partners with the necessary know-how. 
The correct and timely implementation of product development, industrialization and serial production should be a priority from the very beginning.
CPS shows you the critical milestones to achieve in a medical device or pharmaceutical device company / start-up or spin-off. We will show you in which period, with which measures and resources, which milestones are achievable.
The analysis, the resulting implementation recommendations and their support during the implementation, which we can offer with our many years of expertise, always takes place within the correct, legal framework and concrete steps.
We at CPS support you in identifying the right goals and in laying the necessary steps for success. From Start-up to Scale-up!